Annemasse (Fr)
Annemasse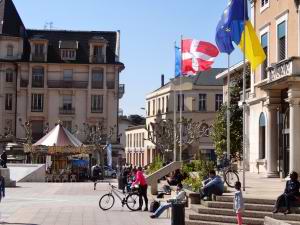 The closest bigger French town to Geneva is Annemasse, located only 4 kilometers east from Geneva, so it actually merges with Geneva city and borders are practically non-existent - its all the way the urban area with regular streets, shops and restaurants. Many people working in Geneva live here and travel to Geneva daily. For a Geneva visitor, Annemasse is a great place to get a day break, get a coffee and French lunch, do some shopping or be accommodated here. Prices are about half of those in Geneva.
Hotels in Annemasse
Annemasse has sixteen 3-star and 2-star hotels; in the center, at the train station and at Rue de Genève, which goes straight to Geneva. Two Ibis hotels are located here, which, thanks to their popularity, get's usually full during biggest Geneva events, festivals and congresses.
Prices start as low as ~ €50 per night.
Book hotel online with our partner Booking.com to avoid sell-outs while getting the best rooms.
Seach hotels in Annemasse via Booking.com
Getting to Annemasse
The easiest way to reach Annemasse is to take the tram number 12 to Moillesuaz (final stop) and cross the French border there by foot (Moillesulaz-Douane at street Rue de Geneve). Right after the border is a bus stop Gaillard Market connecting You to Annemasse public transport (which includes Gaillard and Ambily as its part).
Another way is to take special bus 61, going between Gare Cornavin and Annemasse Gare (train stations) and also stopping at Gaillard Market. This bus is priced specially (as a sum for Annemasse and Geneva's ticket price).

If You are going by car, another place for crossing the border is Route Blanche, little southern, as seen on the map bellow. The borders are usually not controlled, as too many local people and cars cross them daily.


Annemasse Shopping
Visiting Annemasse is useful especially for shopping, as everything from groceries, electronics, sports equipment through clothes to daily needs is considerably cheaper than in Geneva. Supermarkets as Casino, Migros, Carrefour, Spar, Monoprix, Dia and Picard are open Monday till Saturday until 7pm and are closed on Sunday. Food prices are generally the half of those in Geneva.

Sunday Shopping
There are several shops open on Sunday just behind the Swiss border, which are great to visit for a budget shopping as well, as they are very close to Geneva. Go to Mollesulaz (tram 12), cross the border. At the stop Guillard Marche are meat shop, Spar and Casino grocery supermarkets, all open Monday - Sunday. Spar is open from 8:30am to 8pm.

There is a popular farmers market full of fruits and vegetables and farmers products in the city center, open untill noon.
Apart from this and few clothing stores, Annemasse city center is better to enjoy a walk or have a cup of coffee.
For shopping experience, visit one of the shopping centers located on the outskirts of the city:

The most popular place to shop in Annemasse is a huge commercial center of various shopping malls around Rue de la Resistance (map).
Supermarkets lists:
Géant Casino (grocery store)
Decathlon (superb sports shop with sports clothes, shoes, sports equipment, bikes, scooters, tents etc)
Boulanger, Darty (electronics)

Also visit the big shopping mole Etrembières at 21 chemin de l'Industrie for great shopping experience. You can also find several decent restaurants, pizza, McDonald, design shops and Hotels for good value.

From Geneva to Annemasse center by car: