Events and festivals
Below is a complete list of Geneva's biggest and best annual events and festivals.
Even though we try to keep all inforomation here correct and up to date, it is still best to check each festival's website for possible changes.
January | February | March | April | May | June | July
August | September | October | November | December
Antigel Festival
Location: the whole canton of Geneva, Switzerland
Dates: usually first 2 weeks of February
Web/email: www.antigel.ch
Music, dance and special events. Trying to use venues not so typical and usual for events like dance performance and music. Such as roller skate party inside of the tunnel or dancing in the hall of the airport. An airplane show above the lake for an opening. The actual program of the festival is unique and changes every year.
Geneva Winter Carnival
Location: Various
Dates: 17-19 February, doesn't take place anymore, finished in 2008
Web/email: www.carnaval-geneve.ch
A wonderful event for children or just the young at heart, the winter carnival is an ancient masquerade festival that celebrates the dying of winter and the coming of spring. Mask making and general merriment is the order of the first two days leading up to the climax of the festival: a massive carnival procession starting from the Bridge of Bergues at 14:30 and carrying on through the streets until the stroke of midnight when the revelers howl a collective final great goodbye to winter.
International Geneva Motor Show
Location: Palexpo Exhibition Center
Dates: 3-13 March 2016
Web/email: www.salon-auto.ch
The Geneva Motor Show is the largest international show in Europe and arguably the most important motor show in the world. Many new prototypes and innovations are unveiled during the week and the atmosphere is electric with lots of freebies and plenty of flare to go around. Classic favorites from almost every manufacturer in the world are also on display throughout the huge showroom.
International Exhibition of Inventions, New Techniques and Products
Location: Palexpo Exhibition Center
Dates: 29 March - 2 April 2017
Web/email: www.inventions-geneva.ch
Admission: CHF 14 (CHF 8 for children under 15 and groups over 10 people)
The largest event of its kind, Geneva's International Exhibition of Inventions features over one thousand new innovations and inventions from around the world. This is where the public and commercial investors alike come to discover the future with inventions from every field from computer science to plumbing to toys and games.
Electron Festival
Location: L'Usine (ZOO & REZ rooms, Spotnik, Makhno), Palladium, Fonderie Kugler, La Gravière, Silencio, Weetamix, Le Commun.
Dates: 23th - 26th March 2017 (Easter weekend)
Web/email: www.electronfestival.ch
The biggest electronic music festival in Switzerland, well known in Europe as well.
Circus Nock
Location: Plaine de Plainpalais
Dates: 24th April - 14th May 2015
Read more about Circus Nock >>

Geneva Marathon
Location: In Geneva city center.
Dates: 6-7 May 2017
Handispot race starts at 8:00am, Half Marathon starts at 8:30am and Marathon at 9:15am on Sunday.
Marathon is prestigious sporting event being held in Geneva every spring. Top runners from all over the world run side by side with local sports enthusiasts. But everyone who takes place is a winner. Come cheer up or take place - You don't need to run full 42km, Various other Marathons take place - Half Marathon, 10km and 5km run, 10km walk, Wheelchair and Handcycle Race. Runners will be finishing in the city center, running through right bank, than left bank (Parc Mon Reposon) and finally ending at the main bridge - Pont du Mont Blanc. Winners are expected to come to the finish at about 11:30am.

Museum Night - Museums all night long
Location: At 30 museums of Geneva
Dates: 2017 Saturday 20th May from evening to Sunday 17th May morning
Super Museum Night starts on 16 May, at 5pm or 6pm - depending on the institutions, or from 7.30 pm at the Botanical Gardens, until 11 pm or 1am.
If You like to stay up the whole night, attend the whole night festival evening Les Heures Blanches des Musées - The white hours of museums, which will take place from 6pm till 4am at Krugers - Rue de la Truite 4.
Super Family Sunday - happening at the international Museum Day, will welcome families and visitors during the day.
Super Pass costs 10 CHF and is an entry to all the participating institutions and to TPG super bus, which will be specially going between the institutions. Young visitors under 18 and holders of the Card 20 ans / 20 francs get a super pass for free. Make sure to buy super pass in advance! See the link bellow for info where to buy it.
You can buy Super-Pass from 28 April in:
Tourist Office (Rue du Mont-Blanc 18,1201 Geneve)
6 bookshops Payot (Rue de Chantepoulet 5, 1201, Rue du Marché 16,1204, Gare Cornavin, ... )
Maison des arts du Grütli (Rue de Général-Dufour 16,1204)
and on 16 May in museums and in institutions participating
Super Family Sunday on 17th May is for free.
More info: There are free flyers in every museum, in a tourist office and posters all around the touristic spots.
Geneva Mapping Festival
Dates: 7th - 17th May
Location: Several places in Geneva. Start at the Center of Contemporary Arts, located at Rue des Bains, where the mapping festival takes place every day until 9pm.
Day of Open Wineries in Canton Geneva 2015
Dates: Saturday 30th May 2015, 10am - 6pm
Location: At over 90 wineries in Canton Geneva
All the wineries around Geneva will be open for free on Saturday for public. Upon buying a glass for 5CHF, You can taste wines at every vineyard for no further charge. Most people will be moving between wineries by bikes (if You are planning to rent one, rent it day before as it usually happens that on Saturday all the bikes in bike rentals are rented already).

Listen to the Green - Écoutes au vert
Location: Parks, Outdoor venues
Dates: June and July 2015

Musical festival happening every year in June and July in beautiful outdoor spots around the lake, parks and music venues. Live music and dj sets. There are many music events under the head of Écoutes au vert going on mostly on Fridays and Saturdays evenings. See their facebook page for actual events.

Lake Sailing Regatta
Location: Lake Geneva
Dates: 12-14 June 2015
Web/email: www.boldormirabaud.com
The Rolex Bol d'Or is Europe's largest and most important sailing regatta with over 500 boats in competition annually. Hosted by the Societe Nautique de Geneve, the regatta has received increased attention on the world stage since the Swiss team Alinghi took the America's cup in 2004.
Geneva Music Festival (Fete De La Musique)
Location: Various
Dates: 19-21 June (2015)
Web/email: www.fetedelamusique.ch
Geneva's largest music festival features over 100 acts on display at more than 30 different outdoor venues spread throughout the city. There is something for everyone from jazz to reggae to trip-hop with a wide variety of food stalls to match. Most of the concerts are free of charge so you can dance your way through the streets from dusk until dawn and beyond.
49th Montreux Jazz Festival
Location: Montreux
Dates: 3-18 July 2015
Web: www.montreuxjazzfestival.com/en
The Montreux Jazz festival was founded in 1967 and has been a European mainstay ever since, bringing an eclectic mix of artists year after year. There are free concerts and jam sessions along the lake every night, and the intimate paid venues offer concertgoers a unique up-close experience with some of the world's biggest names.
American Independence Day
Location: Boutde-Monde Stadium
Date: 4 July 2015
Web: www.amclub.ch
Organized by the American International Club of Geneva, the event features live music and shows, games for children as well as American dinner and buffet. Event is organized throughout the day (from 3pm) at Grand Saconnex. Registration in advance is required (full fee CHF 50).
Geneva Lake Parade
Location: Right and left bank of Geneva Lake; up to Geneve Plage
Date: 4 July 2015
Huge electro-techno party brought to the streets of Geneva, the Lake Parade of Geneva is yearly super popular event for all the music lovers. Dozen of trucks filled with DJ sets, loudspeakers and people dancing are making their way through streets, ending at Quai Gustave-Ador for an all-night festival-like party with dozen stages and thousands people.
Ciné Transat - Open air cinema
Join thousand of people in the park by the lake, for a big open air cinema.
Location: Perle du Lac park, under the open air behind the restaurant
Dates: 9th July - 16th August; every Thursday, Friday, Saturday and Sunday
Time: The movie screening starts at dusk, when it is dark enough to see the screening (around 10pm)
Language: Movies are in original language with French subtitles, so if you don't understand French, look for English (American) movies.
Website: http://www.cinetransat.ch/2017/#programme
Admission: Free
Pre-Fêtes De Genève - Prelude to Festiaval
Location: English Garden
Dates: 16 July - 29 July 2015
Web/email: www.fetesdegeneve.ch
For 2 weeks prior the Festival of Geneva will start, the English garden will be hosting live musical bands and shows every night and the lot of food stuff and entertainment will be already taking place around the lakefront.
Fêtes De Genève - Geneva Festival
Location: Various
Dates: 30 July -09 August 2015
Web/email: www.fetesdegeneve.ch
The Fetes De Geneve, "Geneva Festival", is the highlight of the summer and draws over 2 million visitors annually. For ten days the party boogies on along the shores of Lake Geneva with carnival rides, concerts, food stalls, variety shows and parades. The evenings are capped off with a fireworks show sponsored by a different firework company each night. The finale of the festival is the sensational Techno Parade where each float is a rave on wheels complete with costumed dancers and pumping beats that always get the crowd going.
French Conversations in Park
Summer french conversations in park are great way to practise your French and meet new people. Free admission, no registration required.
Dates: 30th June - 21st August, Tuesday-Friday.
Time: 16:30-18:00 (not happening in case of rain).
Location: Four parks in Geneva, different location every 2 weeks. See website: www.cours-au-parc.ch
Festival De La Batie
Location: Batie Park
Dates: 28 August - 12 September 2015
Web/email: www.batie.ch
This outdoor festival is a multi-media event designed to fuse and foster the collective creative impulses of artists from throughout France and Switzerland. Concerts, art shows, theater events and other performances are featured throughout the duration of the festival, as well as workshops, seminars and discussions designed to raise consciousness about the role of art in society. If you like hippies and communing with nature, this is the place for you.
Circus Knie
Location: Plaine de Plainpalais
Dates: 28th August - 17th September 2015
As every year the family Knie is presenting their new program with a lot of animals, top level artistis and clownish performances.
Read more about Circus Knie >>
Geneva Yoga Music Festival
Date: 8th - 11th September 2016
Location: Temple in Paquis

Nuit des Bains
Dates: September 17th 2015 (Thursday), from 6pm - 9pm
Location: Quartier des Bains, Rue des Bains
Admission: Free
11 galleries and 5 cultural institutions in the area Quartier des Bains (heart of Geneva's contemporary art scene) are open for free, together with accompanying program.
Christmas Festival
Location: Various
Dates: November - December through January
Christmas is a special time when Geneva goes all out to bring some good old fashioned Christmas cheer to the city to help chase away the winter blahs. The International Christmas Market at Fusterie Square features hand made folk arts and crafts from throughout Switzerland as well as numerous food stalls, all housed in quaint miniature wooden chalets along the main shopping street. Free Open Air Skating is available at Place du Rhone with skate rentals for SFr. 6 for adults and SFr. 3 for children. The annual Christmas Tree Festival is a unique event presenting an array of trees and sculptures designed by renowned international artists on display throughout the city. Finally, for the very adventurous, there is the annual Christmas Swimming Cup. The mid-December event draws over 600 swimmers who brave the icy waters to race from the Jardin Anglais to the Quai General Guisan.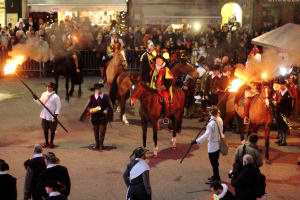 L'Escalade
Location: The Old Town
Dates: 9-11 December 2016
Web/email: www.compagniede1602.ch
L'Escalade commemorates the successful defense of the city against invasion in 1602 when the people of Geneva rallied to repel the Duke of Savoy and his mercenary horde. The festivities kick off on Sunday with a 5 mile race through the Old Town (see www.escalade.ch/en/home.php for details) and culminate the following weekend with a torchlight procession of over 1000 marchers dressed in period costumes through the city to the steps of Saint Peter's Cathedral. The week between features exhibitions, concerts and shows celebrating different aspect of Geneva's most triumphant victory.