Libraries in Geneva
There are 7 municipal libraries in Geneva open for free for citizens, students and visitors, as well as several University libraries mostly filled with students.
Libraries offer quiet environment to study, work or relax. Libraries contain variety of books, magazines, CDs and DVDs, travel guides, audio-books, children books and literature in foreign languages. Standard is free wifi and copy machine.
Geneva City Libraries
Entry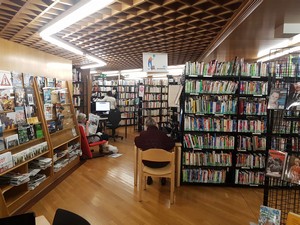 To visit library and have a look at the books is free. To be able to borrow books, one has to obtain library card, which is free of cost. The ID and Swiss address are required. If you are living in France, go to one of the french libraries, where they will guide you in simple procedure to Geneva library membership.
Opening hours: Libraries are opening in between 10am to 3pm, closing in between 6:30pm to 7pm. Opening time is shorter on Saturday. Libraries in Geneva are closed on Sundays and during Christmas and New Years Eve period.
Visit official city website (in french) for specific opening hours.
Copy machine
Automatic copy machine is available in the libraries working with coins - cost per one A4 copy is 0.20CHF.
List of municipal libraries in Geneva
The 7 city libraries are:
Bibliothèque de la Cité (Main library)
Bibliothèque municipale de la Cité, The city library is located close to Bel Air, between main shopping street (Rue de Marché) and Old Town in a modern glass building, it contains 5 floor of book shelves and tables for study and work. This principal library will help you with your more specific requests, such as obtaining your library card if you don't live in Geneva.
Address: Place des Trois-Perdrix 5

Bibliothèque des Eaux-Vives
Entry through the spiral staircase on the corner of Rue Silem 2.
Address: Rue Sillem 2
Bibliothèque de la Jonction
Address: Boulevard Carl-Vogt 22
Bibliothèque des Minoteries
Parc des Minoteries 5
Address: Minoteries library contains special section dedicated to sport and all physical activities, training, mountain hiking.
Bibliothèque de Saint-Jean
Address: Avenue des Tilleuls 19 (entry from rue Miléant)
Bibliothèque des Pâquis
Address: Rue du Môle 17
Bibliothèque de la Servette
Address: Rue Veyrassat 9
---
University Libraries
Apart from main 7 Geneva libraries, there are several libraries associated with University of Geneva, also open to public visitors.
Opening hours: Usually from Monday to Friday: from 8am - 10pm. Saturday, Sunday and holidays: 9am-6pm. Closed during Christmas holidays and New Year's Eve.
Bibliothèque de Genève
Geneva library is belonging under Geneva University. Library of Geneva is intended mainly for students studying here, but it's open also for wide public and thus great place for undisturbed study or work. In adjacent park, many students relax on the grass during sunny lunch breaks.
Location: Bastions Park, Address: Prom. des Bastions 1
Bibliothèque Uni Mail
Located in big university building of Uni Mail, this library is mostly used by students of humanitarian sciences studying here - but nevertheless it's open for visitors.
Address: Boulevard du Pont-d'Arve 40