Place du Molard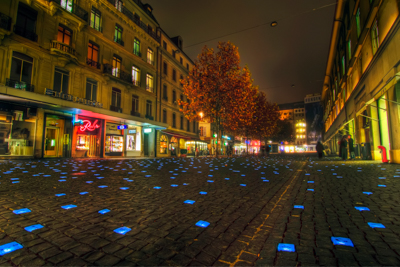 Place du Molard is a square in the center of Geneva, in between the Shopping Street Rue du Marche and the Lake. It has a unique atmosphere of Geneva's pulsing life, offers top class shopping, hotels, cafés as well as great restaurants.
Word Molard comes from the French word mole (pier or jetty), as until the beginning of the 19th century the lake used to come up to this point and there used to be a merchant port here.
The highlight of nightly Place du Molard are illuminated cobblestones in the stone paving, shining in the evening after sunset. There are hundreds of paving-stones spread among the whole square resembling a starry sky on the ground.
Every lighted stone has a word written on it in the following languages: English, French, Spanish, Russian, Chinese, Japanese and Arabic. But maybe, with a bit ofendeavour, You will find some more languages. See the pictures for some examples of the words embedded in stones.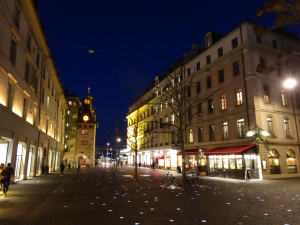 Place du Molard is thus recommended for a romantic evening walk or for having a cup of coffee and a dinner with a view of this spectacle. Enjoy your charming night in this manner after some good shopping on Rue du Marche.

Opening times: Nonstop
Admission: Free

Molard Tower
The dominante of Place du Molard is Molard Tower, built in 1591, open for public.
The tower has been reconstructed several times, the last renovation took place at 1906-1907. At years 1903-1905 and 1907-1908 Lenin was living in Geneva, that was the times when his conception of revolutionary party matured. As Geneva is a city of refugees and Lenin was one of them - he arrived to Geneva after being imprisoned for 3 years in Siberia - in 1920 the relief with Lenin's head imprinted on it, saying GENEVA CITE DE REFUGE was placed on the Molard Tower.

What is there to do
Brassery where they make their own home made beer. Their pot for beer brewing is here on display for tourist. You can also find here a grocery store, flower market, restaurants, hotels, and very popular cafeterias.

Pictures of paving stones:
Click on the picture for the full-screen view