Sports, activities and recreation
Geneva is a city on the go with plenty of opportunities for sports and recreation in and outside of the city. With easy access to the nearby Alps, Geneva is also the perfect jumping off point for any mountain adventure. Also, don't miss important cultural events and festivals happening here.
Yoga
Many yoga studios offers variety of yoga styles for any age.
Swimming, Water
Lake provides ideal cool down during hot summer days, when everyone heads to one of many Geneva's beaches. During the colder months, go for a swimming at public swimming pools at Sports Center Vernets or Varembe.
Sauna
Dry or humid sauna, Swedish or Finnish, there are plenty of opportunities thorough the city. Sauna at Bains des Pâquis is alco connected with hammam and turkish baths, and offers cooling down directly in the lake.
---
Take advantage of lake and sunny weather and spent some lovely time on one of many Geneva's beaches.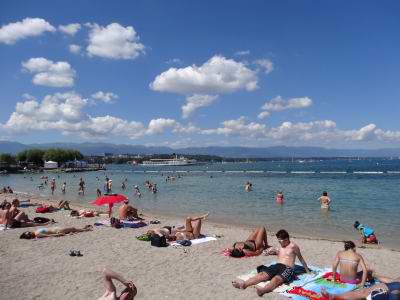 Location: Quai du Mont-Blanc 30; 022 732 2974
Hours: 10:00 - 21:00 (May to September)
Web/email: www.bains-des-paquis.ch
Built in the 1930's Bains des Paquis is a historic landmark and still one of the hottest spots in town. Entrance is CHF 2 or CHF 50 for a summer season pass. The baths feature a restaurant, a diving platform, beach with plenty of space to layout on your towel with stellar views of the Jet d'Eau and surrounding shorelines. A Turkish bath complete with a sauna (sauna is closed in summer), steam room and massage parlor are open year round for an additional CHF 20 in winter or CHF 10 in summer.
Geneva Plage
Location: Port Noir; 022 736 2482
Hours: 10:00 - 20:00 (May to September)
Web/email: www.geneve-plage.ch
Geneva Plage on the eastern bank is a water park with a view. An Olympic sized pool, a waterslide, water ski launch, wading pool and a beach are just a few of the goodies that visitors enjoy during the spring and summer months. Of course the most popular area is the open lawn in the center of the park where sunbathers check each other out from behind the safety of their sunglasses. Admission is CHF 7 for adults andCHF 3.50 for children.
See more beaches >>
Bains de Cressy - alternative to Bains de Paquis, offering similar service.
Vitapark - Water Park with hot water, sauna, massage.
Aquapark - Biggest aquapark in the area is located close to Montreaux, about 100km away from Geneva. Still worth it for a day trip.
---
Beautiful nature surrounding Geneva, including majestic Jura mountais and close proximity to Alps - you are at the perfect hub for hiking.
---
Skiing
With over 200 ski resorts with 100km of the city, Geneva is arguably the greatest skiing hub in the world. The Gare Routiere Bus Station offers daily round trips, including lift tickets, to top ski destinations including Chamonix, Clusaz, Avoriaz, Diablerets, Verbier, Les Gets, Les Houches, Flaine, Grand Bornand and Contamines. Check Gare Routiere departure times. There are also a number of ski clubs in Geneva that organize regular outings for all experience levels. Check with the Ski Club of Geneva (www.skiclubgeneve.ch) for the latest news and information.
---
Rafting and Kayaking
With two raging rivers running through town, Geneva has prime rapids right at its doorstep.
Rafting Adventure Centre
Location: Quai des Vernets 8; 079 213 4140
Web/email: www.rafting.ch
The Centre offers multiple tours including daily half day rafting trips down the Arve River for SFr.60 and full day excursions on the Dranse for SFr. 90. Kayaking and canoeing adventures are organized by request. Beautiful scenery is guaranteed but don't expect to stay dry for too long.
Rafting Loisirs
Location: Chemin des Marais 52, Veyrier; 022 784 0205
Web/email: www.rafting-loisirs.ch
Located in Veyrier, Loisirs offers two basic rafting and kayaking courses, both on the Rhone River, from Jonction to Passerelle de Chèvre and from Chancy to the Carnot Bridge. Both trips are suitable for beginners and last approximately two hours. SFr.70 per person. Children's rafting camps and adult certification classes are also available throughout the summer months.
---
Wine tasting
Although not known for its wine, Geneva's winegrowing region is easily the most picturesque in the world and the largest in Switzerland producing 13.5 million liters annually. Most vineyards offer tasting, though some by appointment only. See www.wine.ch/index.htm for a complete list of wineries and events. La Route de Vignoble or the 'Road of the Vineyard' (www.routeduvignoble.ch) is a popular tasting route connecting some forty vineyards in and around Geneva. The route is well marked and easily conquered by bike or on foot. A similar course at Parcours Dardagny (balade viticole) presents a full history of winegrowing in Geneva along a 7km trail through the Dardagny vineyard with tasting in the main house. The biggest wine tasting event of the year, Open wineries day, is not to be missed.
---
Hot Air Ballooning
Alpine hot air ballooning is an exhilarating activity that, although costly, provides astonishing views and a once in a lifetime experience. The January Chateau d'Oex balloon festival is the largest winter balloon festival in the world and attracts hundreds of enthusiasts from around the world. A number of private operators offer hair-raising day tours that won't soon be forgotten.
Funk's Ballonfahrten
Location: Vordere Gasse 27, Wolfwil; 062 926 2277
Web/email: www.ballonreisen.ch
---
Equestrian and Horseback Riding
Horseback riding is a hallowed tradition in Geneva and there are many stables that offer training in formal dressage and jumping as well as regular excursions into Geneva's outback. Geneva is also host of Europe's largest equestrian World Cup event, the Geneva International Horse Show and Jumping Competition (concours-hippique.ch).
CERN Horse Riding Club
Location: CERN, Meyrin; 022 767 2123
Web/email: jouhet.home.cern.ch/jouhet/CHC-E
Manege d'Onex
Location: Chemin des Laz 16; 022 792 1688
Web/email: www.maneges.ch
Poney Club Presinge
Location: Route de Presinge 137; 022 759 1937
Web/email: www.poneyclubpresinge.com
---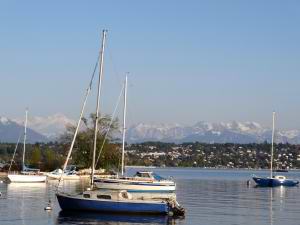 Take a cruise to enjoy a relaxing time on the waves on Europe's largest lake with fabulous vistas of the surrounding Alps.
CGN Boat Company
Location: Jardin Anglais, Quai du Mont Blanc, Paquis, Eaux Vives; 0848 811 848
Web/email: www.cgn.ch
CGN is Geneva's largest boat company with four departure locations and the largest fleet on the lake. One hour day cruises are available for SFr. 12 for adults and SFr. 6 for children. Evening sunset cruises abound with romance, enticing cruisers with starlit views and dancing on the decks. CGN also runs regular ferries to destinations around the lake including Nyon, Yvoire, Thonon, Evian, Lausanne-Ouch, Montreux, and Chateau de Chillon.
Swiss Boat
Location: Jardin Anglais, Quai Fleuri 9 and Quai du Mont-Blanc 7, in front of the Beau-Rivage hotel; 022 732 4747
Web/email: www.swissboat.com
Swiss Boat features a number of informative cruises including a forty minute "Mansions and Parks" tour for SFr. 8 and a two hour "Castle" tour for SFr. 20. Both highlight Geneva's most famous lakeside mansions and estates. In addition, the company rents out sail and motor boats for private events up to 100 people.
River Cruise
A unique take on the traditional lake cruise is the MGN Rhone River cruise departing at 10:00 daily from Quai des Moulins de I'lle, April through October. The three hour cruise winds through the nearby Geneva countryside past fetching farming villages and little known natural wonders. SFr.22 for adults and SFr.15 for children. See www.swissboat.com/en/cruise_rhone.php for reservations.
---
Walking Tours
The city of Geneva (www.geneve-tourisme.ch) offers walking tours of the Old Town departing each Saturday morning from Pont de la Machine at 10:00. There is also available a walking tour through Carouge, the south part of Geneva, and Geneva, cradle of fine watchmaking tour, taking you through history of Geneva's watchmaking. To make the most of your visit, you can book your private walking tour.
Self-guided audio tours can also be rented from the office for SFr. 10 or SFr. 18. Another do-it-yourself option is Geneva on Foot (www.ville-ge.ch/plan-pietons), a series of eight maps produced by the Planning Office of the City of Geneva that provides walking routes with detailed information about the many colorful neighborhoods that make up the city. Contact Geneva's Association des Guides (www.agtp.ch) or Mairie de Carouge (www.carouge.ch) to arrange a personal or group tour led by a local expert.
---
Mini-trains are a popular way to see the city, especially if your feet are too tired to carry on. The tours hit the basic sites and provide a good historical overview of the city.
STT Train Tours
Location: Bd St-Georges 36; 022 781 0404
STT runs daily tours of the Old Town and of Geneva's right bank. The Old Town tour departs daily from Place du Rhone and lasts approximately 45 minutes. The cost is SFr.8.90 for adults and SFr.5.90 for children. The "Paquis Express" tour leaves every 45 minutes from Quai du Mont Blanc and lasts approximately 35 minutes. Tickets run SFr.7.90 for adults and SFr.4.90 for children.
Les Corsaires Mini-Train
Location: Quai Gustave-Ador 33; 022 735 4300
Web/email: www.lescorsaires.ch
Les Corsaires explores the parks and lakefront areas of Geneva's left bank with departures every 45 minutes from the English Garden near the Mont Blanc Bridge. The half hour rides cost SFr.7 for adults and SFr.4 for and children. The voice recorded guide speaks multiple languages.
---
City Tours
Geneva is within reach of many other quaint lakeside villages and mountain towns. Key Tours (www.keytours.ch) is the most popular tour bus operator in the city with numerous day packages designed for every taste, whether you're interested in the natural wonders of Switzerland or buying cheese. Tours depart daily from Gare Routière at 7 Rue de Alpes. Go to www.wwsa.ch for other tour operators in the city.
---
Segway company Citywheels is offering segway tours in Geneva Old Town, in and around the United Nations and Private Segway Tours. Price lists at 99CHF for 90 minutes, depending on the tour.