Basic facts for the visitor
Geneva is the second largest city in Switzerland behind Zurich and the most international city in Europe with over 40% of its population coming from outside Switzerland. The main industries are banking, inter- and non-governmental administration, technology, and tourism. Geneva prides itself as being one of the most beautiful and cultured cities in the world, combining the splendors of nature with a rich palette of historic and architectural offerings. As well, the city is a major gateway to the Alps for outdoor enthusiasts year round.
History of Geneva

Geneva has a rich history that dates back more than 4000 years and continues to influence the development of the city today. Evidence of Geneva's past is preserved throughout the city in its many museums, monuments and architectural treasures.
Hotels and hostels
Geneva has over 130 hotels ranging from luxury-five star resorts to dorm-style hostels. Most hotels are in easy walking distance of major attractions, shopping and of course food.
Location

Geneva is the capital of the Swiss Canton of Geneva located in the south-westernmost corner of Switzerland. The city is situated along the banks of Europe's largest lake, Lake Geneva (Lac Léman), at the mouth of the Rhone River and is bordered by the Jura Mountains to the west and the French Alps in the east. The city is easily reached within 2 hours by plane from most major cities in Europe and is a hub of Europe's highway network. High-speed train connections to Paris and Milan as well as fast trains to Spain and Germany provide additional access.
How far is Geneva from France?
4 kilometers.
Geneva, located at the southwest peak of Switzerland, is geographically surrounded by France from west, south and east. The closest French town to Geneva is Annemasse, located just behind the Swiss-France borders. Distance between Geneva and Annemasse, France, is 4 kilometers. You can easily walk from Geneva to Annemasse without leaving the urban area.
Other French towns around Geneva are: Ferney-Voltaire, Collonges-sous-Salève, saint-genis-pouilly.. See map.
North from Geneva is Geneva Lake and towns like Gex, Versoix and Nyon.
Language
Switzerland has three official languages: French, German and Italian. French is the predominant language spoken in Geneva, but most citizens speak at least one other language. English is spoken by about a quarter of the local population and majority of foreigners. Of course, you can hear just about every other language in Geneva if you listen hard enough, from Albanian to Zimbabwean. When dealing with locals it is recommended that you start off in French, even if it is only a greeting, before transitioning to English.
Geneva Public Holidays
There are dozen public holidays in Geneva during which most shops are closed. It's good to now when holidays are before You plan Your trip.

Currency
The currency in Switzerland is the Swiss Franc (CHF, SFr.). Most of the restaurants, bars, cafes and clubs accept euro, but expect to pay a premium rate, usually exchange rate 1:1.
Credit cards are widely accepted, even entrance to a nightclub can be paid by credit card. ATMs are widely available throughout the city, dispensing notes up to 1000 CHF.
Money exchange
There are many ways to change money in Geneva or directly at the Airport, find out from our list which exchange offices are the best.
Exchange Rates
1 CHF is around 0.93 Eur, and for 1 Euro you will get around 1.08 Swiss Francs. Check the current exchange rate on google.
1 CHF ≈ 0.99 USD, 1 CHF ≈ 1.30 CAD, 1 CHF ≈ 0.78 GBP, 1CHF ≈ 3.30 BRL, 1CHF ≈ 66.6 INR.
Climate
Due to the tempering effects of the lake and surrounding mountains, Geneva is pleasant almost year round. September and October are the rainiest months. January and February are the coldest but rarely drop below freezing. However, perceived temperature in winter is colder than actual, because of cold moist air coming from the lake. Summers are long, with clear sunny sky, with relatively low humidity and cool breezes from the lake. The Mont Blanc is visible from Geneva about half of the days out of the year. Have a look on our weather page for more information.
Electricity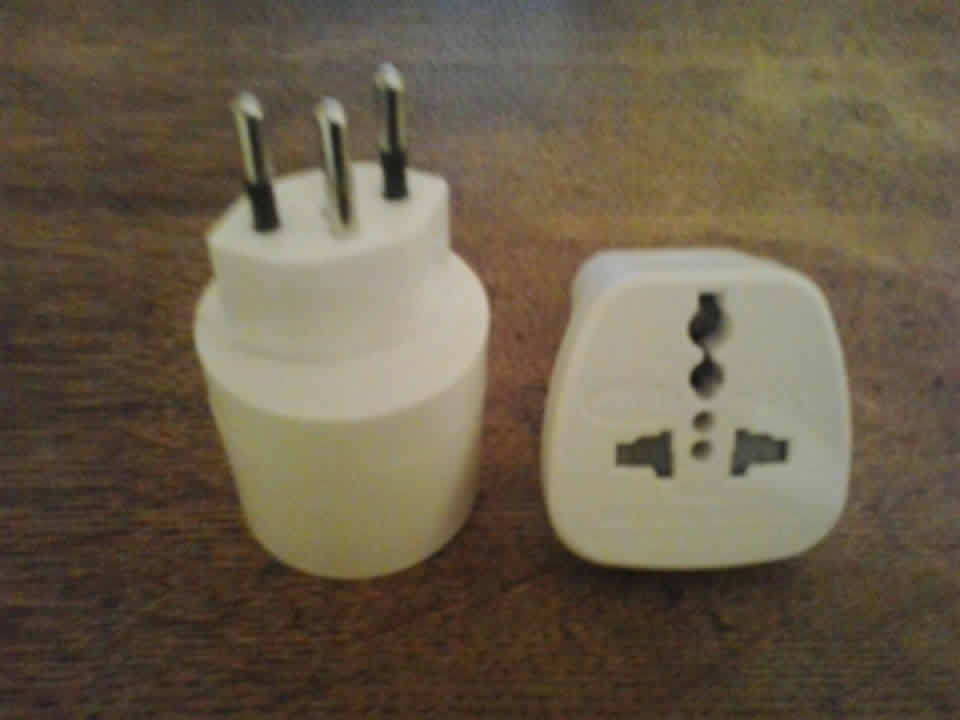 Electricity in Switzerland is 220 volts, 50 cycle AC. Most U.S. appliances require a converter and an adapter to operate, although some dual-voltage items such as laptops may only require an adapter.
Most European appliances also require an adapter as Switzerland uses a 3-prong outlet system that is smaller than most Continental plugs. Adapter can be bought in electro shops (9CHF) and supermarkets, from which Migros has the lower price (from 5 to 7 CHF) and Coop the highest. You will be provided with adapters in Your hotel.
Health and Safety
Geneva is a safe city with 2.37 violent crimes per 100,000 in 2015. Petty crimes such as pick-pocketing are common around the central train station, buses, airport, in trains and in touristy places in general, but common sense usually prevails. Top quality hospitals and clinics are available 24 hours throughout the city (see Print and Take).
Internet access
All hotels and most of the restaurants, cafés and public places have a free WiFi access.
Mobile phones and SIM cards
There are 3 main mobile providers to choose from when You consider buying Swiss SIM card. Advantage of one might be cheaper mobile data compared to roaming and possibility to buy tickets for public transport by SMS.
Time Zone: GMT/UTC +1
Telephone area code: 0041 or +41
Population: 201,000 (2015)
Number of employees in Geneva: 299 000, 27% have residence in France (2013) 
Important Telephone Numbers:
Police Emergency Number - 117
Ambulance / Medical Emergency - 144
Fire Department - 118
Facts and Figures
40 % of residents in Geneva come from outside Switzerland
There are 26 Cantons in Switzerland
Geneva has the shortest commuting time of any major city in the word
Dog droppings is annually listed as the top complaint of citizens in Geneva
Government and International Organizations in Geneva employ 30 000 people
The World Wide Web was invented and developed in Geneva at CERN laboratories.
Jean-Jacques Rousseau, great philosopher, writer and musician was born in Geneva in 1712.