Trip from Geneva to Annecy, France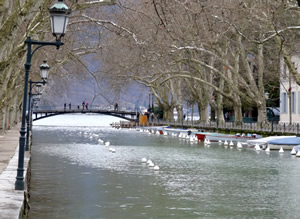 Only 40 kilometers south of Geneva and north of the French Alps is the medieval town of Annecy whose origins can be traced back to the 14th century. Today the town has developed into a small city offering every modern-day convenience but within the old town visitors are carried back to another time. Charming homes and stores in pastel colors line cobble streets and follow man-made channels regulating the inflow and outflow of the lake's water. It is due to these channels that Annecy has become known as the "Venice of Savoie".
The Château of Annecy
The original town developed around the castle residence of the town's rulers, first the Counts of Geneva and later the Dukes of Genovese-Nemours. The Annecy Castle is one the town's primary tourist attractions and combines a variety of architectural styles, illustrating its transformation from medieval functionality to French Renaissance elegance. Today the castle is home to an extensive collection of religious sculptures, landscape paintings and alpine furniture. It also regularly welcomes modern artists with temporary exhibitions and serves as a special venue for select musical events.
Palais d'Isle of Annecy
The Island Palace in English, is Annecy's oldest structures and dates back to the 12th century. Originally a fortified house owned by a succession of aristocrats, the stone triangular structure jutting into the Thiou canal eventually served as a prison for more than 6 centuries. During World War II it was used by the Nazis to detain resistance fighters. In 1986 the modern Annecy History Museum was officially opened, and present visitors are free to visit the building's small cells, chambers and dungeon complete with shackles and vintage graffiti.
Jardins de l'Europe of Annecy
No visit to Annecy is complete without a stroll through the Gardens of Europe along the lakeside. And the best time to visit is May or June when the weather is pleasant, the flowers are beautiful and the crowds have not yet reached summer proportions. Don't miss a walk over to the brush covered Île des Cygnes, an artificial island especially constructed in 1854 to serve as the nesting grounds for the lake's first swans.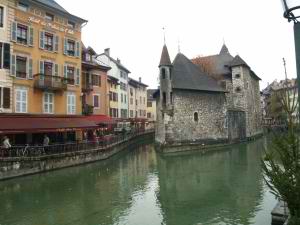 Hiking around Annecy
Annecy is a town very well situated on the lakeside, from where you can do various hiking trips to nature and mountains around.

Other things to do in Annecy
Regular and reasonably priced boat service connects Annecy to other lakeside towns, such as Saint Joriaz, Duingt, Doussard and Menthon-Saint-Bernard. In Menthon-Saint-Bernard you can tour the glass blowing factory of Maryline Vittori or visit the protected marshland in Saint Joriaz.
Travel to Annecy
Annecy can be reached from Geneva by car, via the A41 motorway or via the national roads D227 and D1201. Opting for the national roadways will give you the opportunity to stop by the Pont la Caille, a suspended historical bridge from the 1800s which is still open to foot traffic. This bridge runs for 192 meters at a height of 147 meters, traversing breathtaking gorges. Its modern-day concrete replacement is almost equally impressive and both are classified among the highest bridges in the world. A private taxi from Geneva to Annecy will cost about CHF 150 one way.
Bus from Geneva to Annecy
It is possible to take a bus from the Cornavin train station or better from the Gare Routiere (Geneva Coach Station), in the center of town. Bus doesn't go through highway and stops in several towns on the way, so the trip will be about 1 hour and 40 minutes. Prices start at CHF 15.5 for one-way voyage. You may also use the shuttle bus service from the Geneva airport.

Train Geneva to Annecy
Travel by train is more expensive and time-consuming but if you prefer this method of transportation tickets may be purchased at Cornavin train station. You will need to change trains either in Annemasse or in Aix-les-Bains. The trip by train is about 2 hours and the price of a one-way ticket starts at CHF 22.
www.sbb.ch/
Shared Car Ride from Geneva to Annecy
Many people travel by car between Geneva and Annecy, mostly for work. Use one of the carpooling websites such as blablacar.com to get a car ride for price as low as CHF 4. Cars usually go faster then bus and trip will take less than an hour.
Hotels in Annecy, France
There are more than 30 hotels in Annecy, as well as in other lakeside towns. One of the most popular and well-located hotels in Annecy is the Hotel du Palais de l'Isle. A double room for two people is priced at Euro 100 per night.