Trip from Geneva to Lausanne, Switzerland

The City of Lausanne is big enough to offer what you'd expect from a city, but small enough to make getting around relatively quick and easy. Lausanne has a clearly delineated centre, with most of the shopping, bars, hotels and nightlife to be found within it. Avoid driving in Lausanne if you possibly can – there are numerous one-way streets and complicated intersections to confound the visitor. The public transport network, however, is excellent, consisting of buses and the metro (urban train system). You can even borrow free bicycles at the main train station, but be warned that Lausanne is built on three hills, so there are steep uphills and downhills in most directions, and there is nothing even remotely resembling a grid system for streets. History and Architecture
Search Hotels in Lausanne via Booking.com
Lausanne is very, very old. It has been a settlement since Roman times, and a city of note since medieval ones. It has an enchanting old town (known locally as "la Cité") with narrow cobblestoned roads, hidden courtyards to be glimpsed through archways, and tiny alleyways. Here you can find bars and shops in buildings that date from the 13th century. Lausanne's Gothic cathedral, Notre Dame, dates from 1275 AD and stands over the city at the entrance to the old town. The cathedral has, to this day, a night-watchman who calls the hour throughout the night, reassuring the townspeople that all is well. After visiting the cathedral and the old town, you can cross to the main shopping area by the highest of the city's three bridges, the Pont Bessières, with dizzying views down to the road below it.
Culture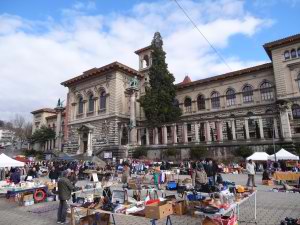 In addition to its famous Olympic Museum, Lausanne has a renowned Museum of Photography (Musée de l'Elysée), its unique Museum of Naive Art (Musée de l'Art Brut) and world-class art exhibitions at the Fondation de l'Hermitage. For lovers of classical music, the Orchestre de la Suisse Romande gives performances all year round at the Théâtre de Beaulieu. Being a university town, Lausanne also takes its cinema seriously, with indy films at the Cinémathèque Suisse in Montbenon. Like other Swiss cities, in July and August you can see a movie under the stars most evenings at the open-air cinema in Bellerive, against a backdrop of lake and mountains.
Lakeside Leisure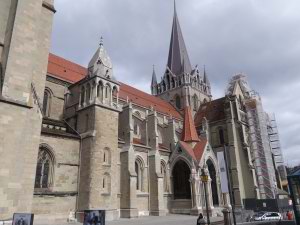 Lausanne's lakeside quarter, Ouchy, is a short bus or metro ride from the centre. Sundays in this area offer an open-air market and some shopping, as well as many restaurants and bars. In the summer, the excellent Bellerive-Plage complex offers several pools, including an Olympic one, a small beach, a restaurant and some sport facilities.
Lausanne Tourist Office:
Lausanne Tourisme
Place de la Navigation
Lausanne-Ouchy
Tel. + + 41 21 613 7373
Website: www.lausanne-tourisme.ch
Getting there
Travel Geneva to Lausanne
By road, the distance from Geneva to Lausanne is around 60 km (37 miles) and if traffic is flowing smoothly can be done in 45 minutes. There are several Park-and-Ride parking lots around the city perimeter, where you can leave the car and take public transport into the centre. Search for P+R on the website to locate them on a map and find out what their daily rate is.
Train Geneva to Lausanne
Inter-city trains do the journey in 40 minutes. There are usually several trains leaving Geneva per hour and the train to Lausanne goes also directly from the Airport and costs CHF 27. Tickets can be bought online.