Museums and Galleries
Geneva is home to more than thirty museums and galleries presenting a wide array of cultural and historical offerings. From the ultra modern Museum of Modern and Contemporary Art to the ancient Maison Tavel, Geneva's museums capture the full spectrum of the city's history and major cultural influences. Free admission is offered the first Sunday of every month at most city sponsored museums and new exhibits are constantly updated throughout the year.
We recommend to consult the homepages of museums for current exhibitions and updates.
Geneva Museums:
Natural History Museum
Location: Route de Malagnou 1; 022 418 63 00
Hours: 09:30 – 17:00. Closed Mondays.
Web/email: www.ville-ge.ch/musinfo/mhng/
Admission: Free

When people in Geneva say they go to Museum, they mean The Natural History Museum. This museum presents an educational look at the world of nature with special emphasis on the ecological history of Switzerland. Included is a life size model menagerie of bears, foxes, alligators, aardvarks and other animals from around the globe, as well as a complete collection of every mineral and plant indigenous to Switzerland. There is a special children's area for kids and a working lab for visiting scientists.
Location:
Route de Malagnou 1 
Bus stop: Muséum
(1,5,8,25)
Admission:
Free
+41 22 418 63 00

Hours: (2015)
All year long: 10:00-17:00
Closed on Monday, 25.12, 1.1
---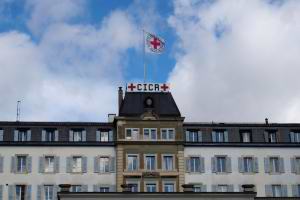 Emotion, discovery, reflection: the International Red Cross and Red Crescent Museum offers a unique opportunity to enter into the history of humanitarian action. Three separate areas, each developed by a well-known exhibition architect, allow visitors to explore three major challenges in today's world: Defending human dignity, Restoring family links, Reducing natural risks.
Red Cross Museum In\ation:
Location:
Av. de la Paix 17
Bus stop: Appia (8)
(map)
Admission:
Full: CHF 15
Reduced: CHF 7
.
Hours (2015):
April - October: 10:00-18:00
November - March: 10:00-17:00
Closed on Monday
Contact: +41 22 418 63 00
www.icrc.org/en
---
Art and History Museum
Location: Rue Ch.-Galland 2; 022 418 2600
Hours: 10:00 – 18:00. Closed Mondays.
Web/email: mah.ville-ge.ch
Admission: Free. SFr. 5 for temporary exhibitions.
The largest museum in Geneva, The Art and History Museum is veritable catalogue of western culture with over one million pieces in its collection organized in three different wings. The Archeology wing contains relics from ancient Egypt, Greece and Rome. The Fine Arts wing houses paintings from the Renaissance onward including works by Van Gogh and Renoir. Finally, the Applied Arts wing features furniture, weapons and other articles of daily life from the Middle Ages.
---
Museum of Modern and Contemporary Art (MAMCO)
Location: Rue Des Vieux-Grenadiers 10; 022 320 6122
Hours: 12:00 – 18:00. Closed Mondays.
Web: www.mamco.ch
Admission: CHF 8
MAMCO, located in an old factory building just street away from Patek Philippe Museum, is a dynamic museum on the cutting edge of modern art in Europe. Supported by a stable of artists from the nearby Centre of Contemporary Art, MAMCO constantly reinvents itself, updating not only its exhibits, but also its interior construction three times per year. The works of Marcel Duchamp, the inspiration for the museum, are on display year round.
---
Tavel House - Maison Tavel
Location: Rue due Puits-St-Pierre 6; 022 418 37 00
Hours: 10:00 – 17:00 Daily
Web/email: mah.ville-ge.ch
Admission: Free
This old Geneva residence was destroyed by fire in 1334, but has since been restored by the city. The house contains artifacts of daily life in Geneva from the Middle Ages through the late 1800's. The attic contains a scale model of pre-1850's Geneva when walls still surrounded the city. Medieval graffiti in the basement of the house is a highlight for many visitors.
---
Botanical Gardens and Conservatory
Location: Chambesy 1292; 022 418 5100
Hours 09:30 – 17:00 (October to March), 08:00 – 19:30 (April to September)
Web/email: www.cjb.unige.ch
Admission: Free
Open year round, the Botanical Gardens and Conservatory offers an escape from the winter blues or, in summer, a chance to experience one of the most comprehensive botanic collections in the world. The conservatory contains over 16,000 different plant species and is a working natural refuge dedicated to preservation and the advancement of horticulture. There are many areas to discover on the grounds including a rock garden, an animal park and a garden of scent and touch.
---
Patek Philippe Museum
Location: Rue Des Vieux-Grenadiers 7; 022 807 0910
Hours: 14:00 – 18:00 (Tues - Fri), 10:00 – 18:00 (Sat)
Web/email: www.patekmuseum.com
Admission: SFr.10. Free for children under 18.
The Patek Philippe Museum traces the evolution of watch making in Geneva from its humble origins through to its current apogee as the world leader in the industry. The museum presents an evocative collection of timepieces dating back as far as the early 16th century, demonstrating the artistic and engineering prowess of Geneva's past and present masters. Modern masterpieces from Patek Philippe's latest collections are also on display as well as music boxes, pistols and other historic bibelots spread over the museum's four floors.
---
Rath Museum
Location: Place Neuve 2; 022 418 3340; 022 418 3340
Hours: 10:00 – 17:00 (Tues, Thurs thru Sun), 12:00 – 21:00 (Wed)
Web/email: http://mah.ville-ge.ch/musee/rath/rath.html
Admission: Varies according to exhibition.
Nicknamed "The Temple of the Muses", the Rath Museum was the first museum dedicated solely to the fine arts in Geneva in 1826. The building itself is an architectural triumph located at the seat of high culture in Geneva at Place Neuve near the city's only remaining rampart walls. The Rath is an affiliate of the colossal Art and History Museum and contains classic examples of Swiss art, as well as an ongoing rotation of exhibits from all over Europe. Bigger part of exposition changes every 3 months, so Rath Museum always offers something new to returning visitor.
---
Barbier-Mueller Museum
Location: Rue Jean-Calvin 10; 022 312 0270
Hours: 11:00 – 17:00 every single day
Web/email: www.barbier-mueller.ch
Admission: CHF 8 full price, CHF 5 reduced price (students, unemployed, retired)
The Barbier-Mueller Museum is home to the combined collections of two of Switzerland's best known collectors: Josef Mueller and Jean Paul Barbier. Throughout their lives, both men traveled the globe in search of art from Antiquity, Africa, Asia and Oceania, bringing forth so called "primitive art" into the mainstream. The museum is an archaeologists dream with over 7,000 masks, tools, statues, ornaments and other singular articles in the permanent collection and numerous itinerant exhibitions on display throughout the year.
---
Marionette Museum
Location: Rue Merle d'Aubigne 22; 022 736 4122
Hours: 14:00 – 17:00. Saturdays only.
Web/email: www.atelier-marionnettes.com
Admission: SFr. 1.50
Billed for infants from 4 to 104, this joyous museum contains over 200 marionettes from 25 different countries. The museum hosts seminars on marionette construction and puts on weekly spectacles for children in its own Theatre du Reve. The shows are in French but quickly transcend all language barriers through their lively play.
---
Ariana Museum
Location: Ave de la Paix 10; 022 418 5450
Hours: 10:00 – 18:00, Tuesday to Sunday.
Web/email: mah.ville-ge.ch
Admission: Free to the permanent collection.
Admission for temporary exhibition CHF 5.-/3.-, free till 18 years old.
The Ariana Museum or Swiss Museum of Ceramics and Glass is a unique museum located on the grounds adjoining the United Nations. The museum contains all manner of kiln crafts including stoneware, porcelain, pottery, and glass from Europe, the Middle East and Asia. 20,000 different pieces are on display dating back to the 1300's. The lovely neo-baroque and neo-classical building compliments every visitor experience.
---
Olympic Museum
Location: Qaui D'Ouchy 1, Lausanne; 021 621 6512
Hours: 09:00 – 18:00. Closed Mondays.
Web/email: www.olympic.org
Admission: SFr. 14. SFr. 7 for children under 19.
A short distance away from Geneva by car or bike, the Olympic Museum is a tribute to the history of the Olympic Games and the spirit which they embody. The museum is housed in a modern facility on the shores of Lake Geneva surrounded by panoramic views of the nearby Alps. The museum presents the history of the Games beginning with the ancient Greeks and traces the Games' evolution through a stunning collection of memorabilia, audiovisual clips and other mementos that takes visitors up through today.
---
Museum of the History of Science
Musee d'Histoire des Sciences
Location: Perle du Lac Park, Rue de Lausanne 128, 1202 Geneva, Switzerland 
Hours: Daily from 10am to 5pm, except for 25th December and 1st January.
Admission: Free
Terrase is open till September.
Museum of the History of Science is small beautiful museum documenting evolution of old scientific measurement aparatus from 17th-19th century (microscopes, telescopes, thermometers etc) and displaying various interesting practical experiments, preferentially suitable for curious children. Museum is located at beautiful park La Perle du Lac, overseeing lake, close to Botanical Gardens.

---
Geneva Museum of Photography, Musée de Photography de Genève
Located in proximity to MAMCO, it's photography exhibitions are changing every time and are of more modern background.
---
There are a total of 36 museums with permanent collections and around 50 commercial galleries in Geneva.
List of Geneva museums:
International Museum of Reformation
Modern Art Museum
Carouge Museum
The museum of Etnographie (Musée d'etnographie) - opened on the 31st of October 2014 after 4 years of reconstruction in a new home at Plainpalais.