Geneva Hotels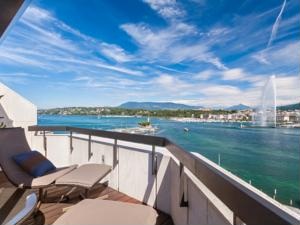 As an international center, Geneva is a master of hospitality ready to cater to the highest of tastes to the lowest of budgets. There are over 14,000 beds in the city center ranging from student hostels to luxury five star resorts. Despite having the largest hotel capacity in Switzerland, reservations are recommended as hotels do fill up quickly, especially during the summer months and holidays. Major conferences and city exhibitions during the year may also make finding a room difficult if you don't plan ahead.
Search Hotels in Geneva via Booking.com
In cooperation with Booking.com - best price, no fees, free cancellation
Areas
Most of Geneva's most luxurious hotels are located along Quai du Mont Blanc on the western shore of Lac Leman. At the center of this area, the Beau Rivage at Quai du Mont Blanc 13, is the oldest and most famous hotel in Geneva, catering to heads of state from around the world and other celebrities since 1865. Fairmont Grand Hotel combines the perfect location, stunning views, luxurious rooms, wellness with spa, swimming pool and sunny terrace to make the best out of your stay, while Hotel La Réserve located outside of the city offers luxury surrounded by the nature, great food, swimming pools and regeneration in its spa and offer huge capacities for company events.
Geneva is quite a small city and stay in a hotel gives You free public transport card which make it easy, so nowhere is too far. We would suggest Carouge for its Italian style old architecture and excellent cafes and restaurants.

The Old Town is the site of many quaint hotels and is a popular choice due its central location. Most of the hotels are converted residences offering old world charms and a unique alternative to the traditional hotel experience.
The greatest concentration of hotels in Geneva is located around the central station at Gare Cornavin and consists mainly of budget and tourist class hotels. For the cheapest option, head to the Paquis to one of Geneva's two youth hostels.
Sparkling glamour, extended services, great locations and each hotel's unique style, atmosphere and dinning site. Sample the world's greatest luxury hotels in Geneva.
Featured Hotels
The following list of recommended hotels is recommended solely on the opinion of the editors.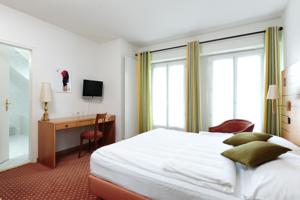 Eden Hotel Geneva ***
Incredible Lakefront views await visitors to the Eden Hotel, located opposite just Parc Mon Repos along the lake. The park has a range of services including a restaurant, meeting rooms, room service and a gift shop. Book early!
Address:
Eden Hotel Geneva
Rue de Lausanne 135
Geneva, Switzerland

Contacts:
Tel. 022 716 3700
Homepage: www.eden.ch/
Secure Online Reservation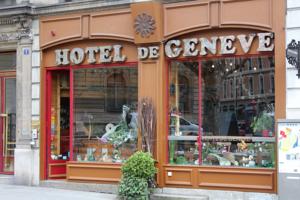 Hotel de Geneve **
Located on a quiet side street, Hotel de Geneve is centrally located with comfortable rooms and friendly service. Continental breakfast served 7am – 10am.
Address:
Hotel de Geneve
Place Isaac-Mercier 1
Geneva, Switzerland

Contacts:
Tel. 022 732 3264
Homepage: www.hotel-de-geneve.ch
Secure Online Reservation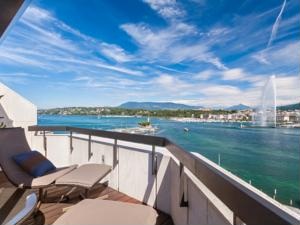 Fairmont Grand Hotel*****
Prominent luxorious hotel of famous Fairmont hotel chain, located by the riverside with great views of fountain, popular for it's steak grill and night club. Paquis area starting behind the hotel offers diverse taste of many foreign countries cuisine and vibrant nightlife.
Address:
Fairmont Grand Hotel Geneva
Quai du Mont-Blanc 19,
Paquis 1211 Geneva

Contacts:
Tel. +41(0)22 908 9081
Secure Online Reservation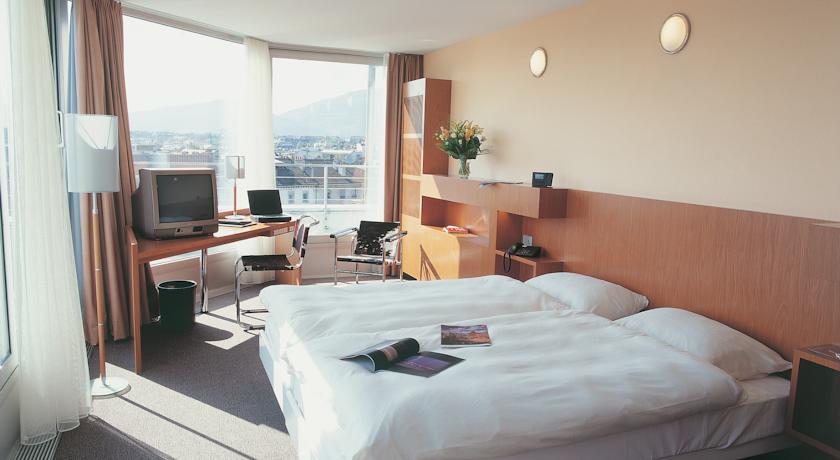 Hotel Cornavin****
Located just a 1 minute walk from the Cornavin station, this hotel was made famous by Hergé, author of The Adventures of Tintin, who had his young cowlicked journalist stay there in The Calculus Affair. This 164-rooms hotel is a perfect fit for business people and tourists alike.
Address:
Hotel Cornavin
Boulevard James-Fazy 23
Geneva, Switzerland

Contacts:
Tel. +41 (0) 22 716 21 12
Mail: cornavin@fhotels.ch
Secure Online Reservation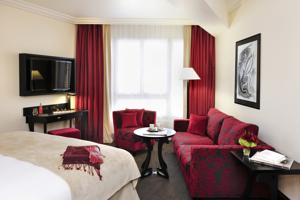 Hotel Tiffany****
Restored in 19th century Belle Epoque building tinged with touches of art nouveau, Hotel Tiffany is an elegant hotel with perhaps the most central location in Geneva. A beautiful bistro and a cozy bar complete the dream.
Address:
Hotel Tiffany
Rue des Marbriers 1
Geneva, Switzerland

Contacts:
Tel. 022 708 1616
Web: www.hotel-tiffany.ch
Secure Online Reservation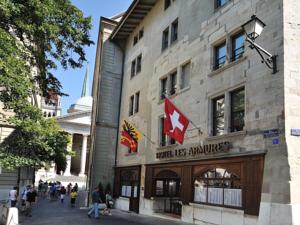 Hotel Les Armures Geneva *****
For a true taste of old Geneva, book early to stay in this five star 17th-century residence transformed into a den of luxury in the heart of Old Town. The hotel comprises four buildings once owned by Geneva's wealthiest counts and bishops. There are 32 rooms including 4 junior sweets and the oldest restaurant in Geneva downstairs serving up gourmet French cuisine.
Address:
Hotel Les Armures
Rue du Puits-Saint-Pierre 1
Geneva, Switzerland

Contacts:
Tel. 022 310 98 46
Web: www.hotel-les-armures.ch
Secure Online Reservation
More Hotels in Geneva: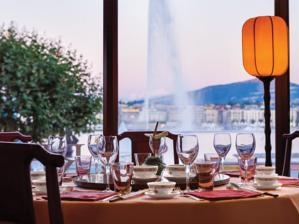 Hotel Reservation links:
Booking.com- offers secure online reservations for about 140 hotels for the best price online, with possibility of free cancellation up to 2 days before stay.


For travellers with budget who don't mind sharing a room with fellow travellers, staying in hostel is a great idea! Geneva Hostel and Geneva City Hostel's bed prices start at CHF 36 per night and include free wifi and free public transport card.
For more, see Hostels in Geneva.
Map of Hotels in Geneva